How to Buy Cable Prep Tools
Welcome to the Cable Prep Family of Distributors! Our tools are readily available through a network of over 50 authorized national and international distributors. The ordering information provided on the tool pages throughout this website makes it easy to specify and purchase the tools you need online or by phone when you contact any of the distributors listed below. If you require additional support, don't hesitate to contact Cable Prep at 800-394-4046, or submit a message through our contact form. Thank you!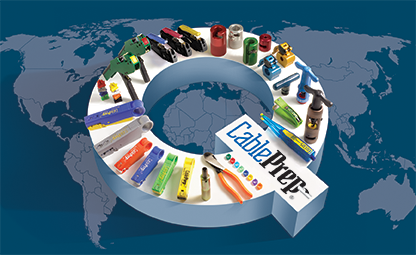 International Distributors
© Copyright 2020 Ben Hughes Communication Products Company. All rights reserved.
Cable Prep, the Cable Prep logo, Tools You Trust, the Cable Prep Tools You Trust logo, the CPT logo, FOCUS, the FOCUS logo, Gator, the Gator logo, Super CPT and Wing Ding are registered and common law trademarks of Ben Hughes Communication Products Company. Cable Prep® products and tools are covered under one or more of the following patents. U.S. Pat. Nos.: 5,561,903; 5,647,119; 5,749,270; 7,849,589; 7,232,235; 7,322,713 and other patents pending.